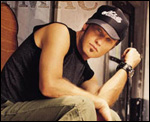 Long before Tobymac was visiting or renovating Diverse City,
he was rappin' it up with his group DC Talk. Formed at Lynchburg
Virginia's Liberty University in the mid 1980s DC Talk would eventually
go on to become one of the biggest selling and well known Christian
music acts of all time. In our latest artist interview, Tobymac chats
with Christian Music Rewind regarding his early days with DC Talk,
discussing how the group came to be, and their progression
through the groups various phases.
Loading the player…