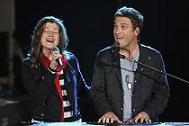 Multi-platinum recording artists Amy Grant and Michael W. Smith have announced plans for a multi-city U.S. tour that will reunite these two iconic singer/songwriters for the first time on the road together (for a non-holiday tour) in more than two decades.The second leg of the 2 Friends tour will pick up again in July and run through the end of 2011 in select cities. Undoubtedly a landmark experience for music fans, the tour showcases two of Christian music's most recognized and beloved artists who have, together, won nine GRAMMY® Awards and sold more than 47 million albums. The two first toured together in 1982 on Grant's Age to Age Tour. Her Age to Age album was exploding up the Christian music charts, thanks to hits like "El Shaddai" and "Sing Your Praise To The Lord." Smith toured as Grant's keyboard player and opening act, supporting his debut release, Project, which generated instant classics like "Great Is The Lord" and "Friends." They toured together on and off through the rest of that decade, culminating in the record-setting "Lead Me On" tour. They have continued to collaborate together musically over the years.
"That first decade we toured together was really pretty amazing," Grant adds. "There's a nostalgia element that comes with having worked with someone solidly for so long and I'm ecstatic about hitting the road with Michael again. We will share the stage and participate in each other's sets. But no kidding, I will have just as much fun sitting on the side of the stage and watching him. It will be like old times."
Both artists will perform music from their vast catalog of fan favorites, along with selections from their current chart-topping albums: Grant's Somewhere Down The Road (March 2010), and Smith's brand new project, Wonder (Sept. 2010). Ticket information for the 2 Friends Tour will be available on each artist's website: www.amygrant.com and www.michaelwsmith.com.