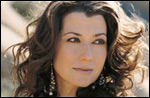 After 30 years with Word Records, Christian music pioneer Amy Grant has left the roster, signing a deal with EMI Christian Music Group's Sparrow label that will include her catalog as well as new music."We are certainly honored by Amy's confidence in us to carry on her musical legacy," says Bill Hearn, president/CEO EMI Christian Music Group. "It certainly is a historical moment for EMI."
Grant signed with Word in October 1976, one month shy of her 16th birthday. "I had a great run with Word and still love the people there," Grant tells Billboard, "but I feel like EMI is uniquely outfitted to do great things for the catalog. And I've known Bill Hearn and his father for over 25 years. There's a comfort level there."
EMI has the Beach Boys, the Beatles, Bob Seger, Frank Sinatra and other major catalogs and EMI executives look forward to working Grant's music. "We really have a passion and mission for Amy's catalog," says Hearn. "We're going to repackage and re-master all 16 of her catalog titles and release them all together on August 14th both physically and digitally as well as a suite of mobile products for the cell phone. There's never been a 'Baby, Baby' ring tone. Imagine how popular that could be."
In addition to the August releases, EMI will release a new greatest hits package in October that will include at least one song from each of Grant's previous studio albums. There will also be a special edition issued that will include a bonus DVD of Grant's music videos and other content.
When news surfaced that Grant's contract with Word was ending, there was much speculation as to whether she'd stay with Word or sign with one of the other three major Christian music companies. At one point, there were rumors she might sign with Sony/BMG's Provident Music Group because Grant is managed by Blanton, Harrell, Cooke and Corzine, and the firm's other major client, Michael W. Smith, is on Provident's Reunion label.
In the end, EMI won out. "I just think we presented a marketing plan that really resonated with Amy's team," says Hearn. "That's why we got the deal. We have a unique situation here at EMI CMG in that we have a strong partnership with EMI Music's catalog marketing division."
Grant is able to take her catalog with her to EMI because, in an unusual feat for an artist, she has always owned her master recordings.
Grant's departure from Word is the end of an era for the 56-year-old company. "Word is honored to have been part of Amy's career for the past 30 years," says Word senior VP of marketing Rod Riley. "She is a pioneer that paved the way for so many other Christian artists and we wish her the best on all her endeavors."
Grant will be on tour this summer with her husband Vince Gill and the Del McCoury Band. She's working on a book for Waterbrook Press due out this fall titled "Mosaic," a collection of poems, stories, and other writings.
As for the direction of her next album, "It's probably too early to say," Grant muses. "I've been working really hard to do this [book] project and that's all I have thought about."
(Courtesy Billboard.com)