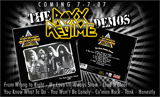 On July 10, Fifty-Three Five Records will release the original demo recordings of legendary Christian metal band Stryper, or Roxx Regime, as they were known in 1983. The CD known as The Roxx Regime Demos, contains no over-dubs or re-recordings, and includes the original version of the MTV and Billboard hit song "Honestly," will be in stores nationwide through Infinity Music Distribution and Redeye Distribution, Inc.
"We're excited to release what the fans have always wanted – the original demos that got the band signed to Enigma Records," says lead singer Michael Sweet, who recently released a new solo project titled HIM. "Without the fans, we wouldn't be here and this is a small way to say 'Thank you'. For all of you who have requested this time and time again, it's finally here – in their original raw form!"
Long before Stryper's multi-platinum albums and chart-topping videos, brothers Robert and Michael Sweet teamed up with high-school classmate Oz Fox and local bass player Timothy Gaines to form a band that would forever change Christian music. The group released a demo project in 1983 under the name Roxx Regime and started playing the local Hollywood club circuit. They eventually caught the ears of Enigma Records and changed their name to Stryper before the release of their national debut album, The Yellow and Black Attack, in 1984. Stryper would go on to sell more than 8 million albums worldwide, with several projects striking RIAA-certified gold. The group's unprecedented 1986 album To Hell with the Devil went platinum and was named one of the "100 Greatest Albums in Christian Music" by CCM Magazine.
Starting today, Stryper fans can pre-order The Roxx Regime Demos exclusively atwww.Stryper.com , where an original vintage Roxx Regime T-Shirt will also be available. All pre-orders will ship on 7-7-07.